About Climate Risk Advisory
What is climate risk and why is it important to your organization?
What are the benefits of integrating sustainability into your business?
…
The transition to a greener society and a greener economy is ongoing in line with the UN's Sustainability Goals and the Paris Agreement.
Today's and tomorrow's regulatory requirements are changing rapidly. This goes for sustainable finance, the EU's Taxonomy, climate risk, climate adaptation, planning frameworks and other frameworks.
Financial success and goal achievement will be correlated with your company's ability to adapt to the new sustainability goals.
…
We offer strategic, legal and financial advisory services to support your position as a green and sustainable enterprise.
Our work in innovation and research projects at the European level gives us early insight into political premises and guidelines for future regulations also in Norway, and in work towards the private market and public decision-makers.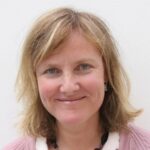 Mia Ebeltoft is a lawyer with education and work experience from France, the United States and Germany.
She has 20 years of experience from Finans Norge where she developed and led business policy processes internally and externally within various disciplines, including climate work in Finans Norge from 2010 to 2020. She has participated in a number of cross-sectoral study projects with local and national authorities, such as Kunnskapsbanken under DSB, and in committee work under the auspices of the EU and research projects under Horizon2020.
Mia has in-depth knowledge of the finance and insurance industry and sustainable finance and taxonomy and regulatory changes in the EU. She has also worked with education and authorization programs which are currently gathered under Fin.Aut.